Umango data capture and document conversion
With seamless connectivity into products like Microsoft SharePoint, HP Trim, Alfresco and a world of other solutions, we provide a powerful platform to build your document imaging requirements around. The speed and accuracy in document processing that our products deliver, allow your business to access information quickly and easily.
Scanning Documents: Transform paper documents into digital files
Umango is helping our customers solve business challenges by turning large amounts of documents into data they can use with ease.
Some people see piles of documents…we see an opportunity to assist you unlock the potential of infinite possibilities for your staff and organization.
Extract Data
Professional batch scanning for medium to large organizations who need to scan, index and store documents quickly and easily. Documents can be profiled at the desktop, on a supported multifunction device or on your tablet/mobile.
Umango is a batch scanning application that delivers speed and efficiency in scanning, naming, indexing and storing of documents.
Documents can be scanned from supported multifunction devices or scanners, or imported from network folders. Data can be extracted and profiled at supported multifunction devices or at a desktop PC. Once captured, the data and document can be routed into a range of office products.
Using data extraction tools such as zonal OMR, zonal OCR, barcodes, keywords and lasso OCR, documents are quickly indexed, named and stored ready for future retrieval. Umango can create a directory tree based on document index values and export in numerous formats including TIFF, PDF, PDF/A or text searchable PDF/A.
If you have a database or document management system Umango can export the document indexing data directly or you may wish to export to one of our standard connectors or export methods.
The application has been specifically designed to be easy to deploy and use across virtually any document scanner or multi function device.
Umango boasts an impressive feature list to deliver flexibility and broad functionality for even the most unusual requirements.
Convert Formats
Automated conversion of a wide range of file formats into a unified file name and file format without requiring user intervention. After being converted, separated and cleaned, documents can be routed to multiple destinations simultaneously.
Among many of the Umango features is Umango's document conversion and routing utilities that run as a Windows Service.
Documents are triggered from MFP's, email attachments or network folders and converted into a range of document formats (docx, xlsx, searchable pdf/a etc) then routed into network folders or a range of back office products.
Umango can offset your organization's per user software and support costs by offering one centralized point for file conversion.
Embedded Options
Whether it's a multifunction photocopier device, a scanner or a mobile phone or tablet we can embed the Umango functionality on the device. All the rich Umango features become available to you no matter where you're creating documents, scanning or profiling!
Ease Of Use
Getting the balance right between features and ease of use is of premium importance to us. Software should be a pleasure to use and enable you to carry out tasks with a minimum of training.
Rich Features
We work hard to add the right features in ways that compliment our product's renown for its ease of use.
Supports multiple conversion jobs running at the same time
Option to run as a Windows service in the background
Watch folders and import images/documents as they appear in a folder
Support for importing virtually any image file format
Use existing filenames and directory structures or specify automated file naming rules
Option to delete blank pages from your documents as part of the conversion process
Support for document separators
Convert files in unlimited sub directory depths and recreate the directory structures as part of the file conversion process
Output to a wide variety of file formats including TIFF, PDF/A, Text Searchable PDF, DOCX and XLSX
Real-time feedback with page thumbnail views during conversion process
Job and session logging of file conversion history
No per document license fees
Simple to install, setup and use. You'll be running jobs within minutes of installation
Ships with full OCR functionality included at no extra cost
At the MFP
Select your job, scan your documents, extract their data and profile their details all at the multifunction device. Set levels of automation so you only have to view the necessary information. Fast, easy and efficient!
Scanning and profiling documents directly at a multifunction device can provide significant efficiency and productivity benefits in your office environment.
What is Profile at Device?
Imagine being able to walk up to any photocopier (MFD) within your business and with the push of the button, scan and be presented in real time on the panel, information from within your scanned documents.
This information would be the business rules that you want to use to name or use in your business and document management systems.
The information could be such things as:
Fixed zones on your documents that are automatically read and extracted e.g. Customer name, customer code
Dynamic information. eg locating the word 'invoice' on a document and read the invoice number located next to it
Read and extract barcodes (1D, 2D and even QR codes)
Be presented with a list of values or categories to choose from
And lots more…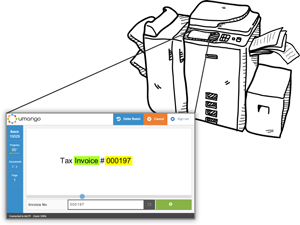 Imagine being able to scan a volume of documents and be able to separate them based on a fixed number, a unique word, barcode or using Umango document separators. This automatic form of document separation enables the scanning of a large volumes of documents all at the one convenient time at the photocopier.
You can even create business rules to determine what information will be presented at the device for checking and what will be read and automatically saved (extract but don't prompt me at the device).
During profiling if you find the checking of information more comfortable at your P.C then select the option to continue profiling your documents back at your PC.
This takes the MFD to a whole new level with scanning documents and dynamically using information for your business rules and processes, quickly and easily.